10 Days. 8 Days of Racing. 650 km. 16000 Hm. MTB Himalaya gives me the annual chance to race with the worldwide top mountain bikers through the Indian Himalayas. It is not only a huge learning experience, but also hard core racing on the one side and 10 amazing days of mountain biking, camping, great food, good people and all that in one of the most beautiful parts in the world.
Last year in 2017 I managed to become the first in the Indian category and overall on 10th position. For me a huge success and the first time I could seriously compete with International riders. Last year I felt strong on the uphill, but lacked clearly in my downhill skills. This year I wanted to perform stronger- uphill, as well as in downhill and technical sections. As MTB Himalaya is the most important race for me in the year I tried to put all my focus on training for this event.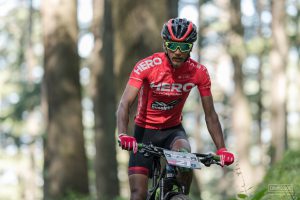 Not only would the competition this year be much harder- every year the field of professional riders gets bigger and more and more top of the world mountain bikers come over for this 10 days stage race- but this year I would also participate in team of two with the amazing pro cyclist Micael Isodoro from Spain. He approached me before the race and asked whether we could ride together.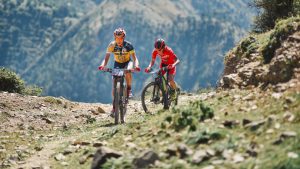 Of course I took this chance. Not only that I had the opportunity to ride with an experienced rider and could learn a lot, but knowing I could also fight for the podium in 2 Categories: Best Asian Rider and Team of Two.
I knew I had no chance to get even close to the top riders in the Open Men Solo Category with riders like Andreas Seewald, Thomas Engelsgjerd, Ole Hem and Milton Ramos participating. But in Team of Two we had good chances to be in front.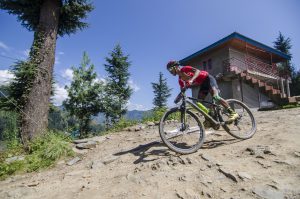 This year's aim was clearly to compete with the international riders and leave my Indian competitors behind me, even though they become stronger and stronger by year.
Also I wanted to use the opportunity to just learn, learn and learn.
The first stage of the race was one of the hardest days I've ever experienced in a saddle. Micael and I were never riding together before and the practice started basically with the first stage.
Micael used to be a pro road cyclist, is super strong in uphill and he pushed me a lot.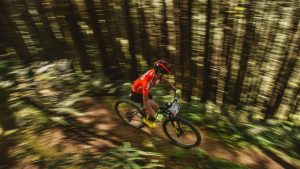 MTB Himalaya was my first race after four month. I needed some time to get into race mode, but with the strong Micael I had to push hard from the beginning. Not even on feed stations I had the chance to rest for even a few seconds. Micael just told me to continue and he was getting whatever I needed. On the first stage I got severe backache and I was not even sure if I could continue the race, if the pain would remain. Massages, stretching and form rolling helped me to relax my back muscles and the pain was much less on day 2.
Also day 2 was hard, since it was the Queen Stage of the race with over 93 km and 2700 hm.
After the first 2 days Micael and I adjusted. It was clear now that the German Focus Rapiro Team was too strong. After these 2 days we were 30 minutes behind them. Not too much, but still very unlikely to ever make it up. Behind us we had a big gap to the Indian-Australian Team Akshit Gaur and Jason English. Also the South African Team was no threat. Like this we were in a quite comfortable second position.
Unfortunately on stage 3 I got an issue with my knee. I was scared the pain could mean something serious and took it easy.
Luckily the rest day was just there in time. I used it not only to treat my knee, but also my upset belly. The physiotherapist Dr Nahata took well care of me and also Sarah helped me to relax my body and mind with a very good Yoga and stretching session, which made me feel alive again.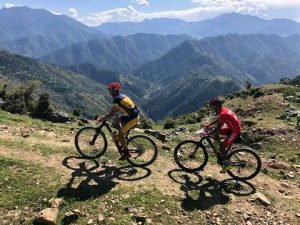 Stage 4 was fabulous. After a slow start on the first climb with a little pain on my knee, I realized that my knee was getting better and I could push stronger. At the 2nd feed station we even caught up with Marvin and Felix of the Focus Rapiro (Leaders in Team of Two) and managed to go with them. Unfortunately my chain broke on the last Kilometers. I could have fixed it, but to not lose any more time I just decided to run for one kilometer to then roll down into the finish! Impressed by our performance of today, the Focus Rapiro Team stayed with us and showed amazing sportsmanship spirit and let us win the stage.
Day 5 was a long 100 km stage through the hot District of Mandi.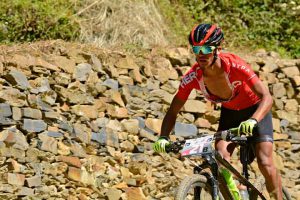 I had a good start and rode with the leaders for the first time in the race for 10 km. Once reached the tarmac section they increased the pace and I decided not to put all my effort just to stay with them and continued in my own pace. Till the last climb I was doing well. But then I got severe stomach pain again and really had to fight myself through the finish. This pain put my mood down. What was wrong with me this year? Health issues made me not perform 100 %.
The next 3 days were ok. The short 6th stage to Barot was hard for me, even though it was a climbing stage- my strength. But at least I could reach the finish once more as the first Asian rider since the beginning. Micael and I reached now every day in the top 10.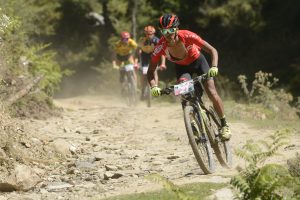 Stage 7 was one of my best stages during the race. Again we started with the leaders and reached the finish line very comfortably. Especially the bike and hike sections suit me and there were a lot of them this time.
On the last stage we could even make another stage win in our category, although I had two smalls falls! My only two in the entire race!
Racing wise I am happy with the result: 2nd Position in Team of Two, 1st Position in the Asian Category and overall 10th position, despite the much higher competition in comparison to MTB Himalaya 2017.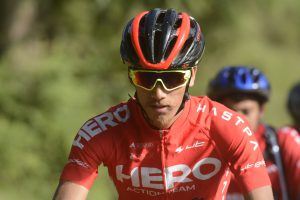 This year I could ride with much more confidence the downhill and technical sections and didn't need to worry about losing time here. Riding with Micael was a huge opportunity and big learning. Thank you so much for being a team with me, Micael!
This time I really struggled with some health issues. Something I normally never had to worry about before. Thankfully I could cope with it and managed to continue and still perform well. Not always everything in racing goes just perfect, still we have to keep the focus to achieve our goals. Something else I learned this year.
Luckily I neither had a severe crash, as some other riders, nor big mechanical issues.
But what made MTB Himalaya 2018 truly special were the relationships with the fellow riders I could build up. Racing, camping, having bath and meals together really bonds you over the period of 10 days.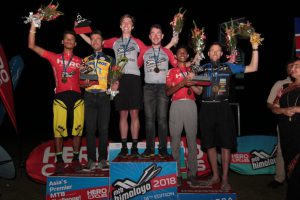 Sitting for hours in the camps, chatting, laughing, exchanging experiences with so knowledgeable riders was truly awesome. I will never forget the fun I had with Milton and his friend/photographer Fernando from Spain. At the end we not only exchanged our phone numbers, but also our glasses and socks.
Also the German Radl Rasti Team I can never thank enough. Such supportive, caring and fun people they are! 7 times 24 Hour World Champion Jason English from Australia gave a nice lecture on professional training and nutrition and with Andi Seewald I had long conversations about professional cycling.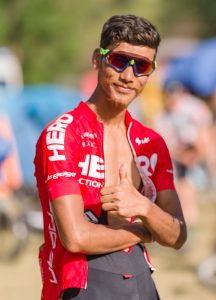 For riders like me, it is a huge opportunity to be surrounded by experienced mountain bikers who are happy to share their knowledge. Thank you guys!
Can't wait to come to Germany to train with Andi, Martin, Joachim, Marvin and Felix and visiting Milton in Spain and Bruno in Portugal. There is just so much more to learn and so much more to train!
See you all in Hero MTB Himalaya 2019 guys.
I want to take the chance to thanks my Sponsors Hero Cycles and Hastpa for the great support they have been providing me for the last 2 years.
Last but not least I would love to say thank you to all my friends, supporters (Nitin Nagpal, Anshuman Singh, Nitin Yadav, Joachim and Kim Finck, Radl Rasti, Andreas Seewald, Abishek Negi, Sarah Appelt, Dr Nahata, Happy, Hishey Negi) and family, who have been accompanying me on my small journey of professional mountain biking ( hope it will become a much bigger one ;)).