The 26th of May 2018 was a big day for me: I participated in my first ever race abroad. My sponsors Hastpa and Hero Cycles sent my two team members Akshit and Ashish and me to the Darling Brew Xtreme Race in South Africa.
As the winner of the MTB Shimla Race, I won a free entry for the 72 km single stage race. Not only that it would be my first ever race abroad, but also my first travel outside of India. You can imagine that I was quite excited: I would race against 800 experienced riders on a complete off-road route in South Africa!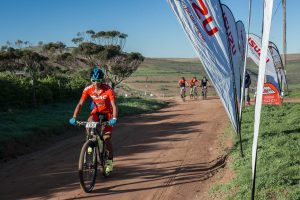 But besides a hard practice before hand, many things needed to be arranged. Passport and Visa needed to be applied for, the flight booked and the bike packed.
After a sixteen hour journey we finally landed in Cape Town.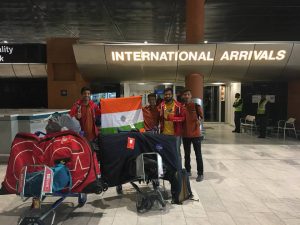 In Cape Town we had a great welcome by our hosts- family members of the race organizers. After the one hour drive to the village darling they treated us with a traditional welcome dinner and we could live in a private cottage, were we had the possibility to even cook by ourselves.
That was a relief, since we had some difficulties adjusting to the South African food. Not that it was bad, it was just different to what we are used to and it is not the best idea to start experimenting. And what about this Avocado in every meal!?
Overall the hosting of the South Africans was amazing. They treated us like Superstars, took time to show us around, helped us out with mechanical problems, assembling our UT Edge ETX bikes and spare parts and showed us the racing route.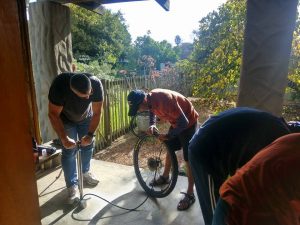 This one day between arrival day and Racing day, was hardly enough time, to get prepared for the big race, but besides that, we even managed to look around and do some shopping.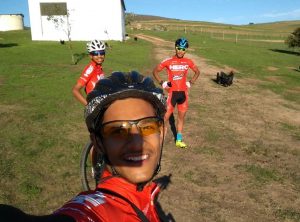 I was really impressed by the country and it's cycling community. This place was perfect for riding: Amazing roads for road biking end endless trails for mountain biking.  So many people here are into cycling and every weekend at least one MTB race happens in that country- that is paradise.
During registration we had some interaction with other local riders. All of them were surprised that we came all the way for this one day race. They were even more surprised when we told them, that we would participate in the 72 km race- the longest and toughest in which also all professional riders would participate. Seeing us young, tiny and skinny boys, they could hardly believe we will survive the race.
The Darling Brew Extreme race consisted of many different categories, providing racing opportunities for everyone, starting with a 25 km loop. It was not only an event for professional hard-core riders, but also for families.
Main Sponsor of that race is the Darling Brewery and the organisers promised good mountain biking, lots of fun and – of course- lots of beer after the race!
At 7:30 am on the 26th of May it was finally time for the race. The evening before we had the chance to do some cycling on some of the race routes and it promised to be a hard, but fun race- proper Mountain Biking for sure.
The race was only 2 km away from our accommodation, still we almost reached late. Fortunately the race organisers put as in the leading starting group of the first 200 riders. Like that we could race against the best riders and had a proper comparison of our performance with the international riders.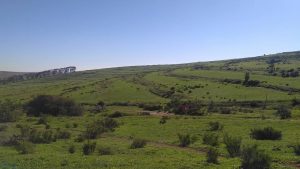 It was a fast start and I decided to take it easy in the first minutes of rush. No need to have a crash already now. At the same time I tried to stay with some good riders of which I thought, that they have a good pace. It was the only race day so I wanted to give my best right from the beginning. Once the first up hills came I was into my element. Riding this quite short, but steep up hills I knew from the Himalayas and I could show a strong performance. Slowly I made my way to the top 25. The race was really nice organised, all was off road and in between there was even a 20 km long single trail- amazing. There were a total of three feed station.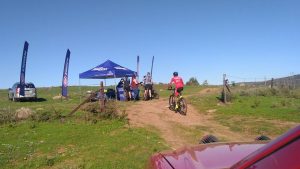 I quickly stopped at two of them, getting some juice and water. Despite the good marking I got now and then a little bit confused with the direction. After some downhills suddenly these wide flat areas came with Jeep tracks leading in all kind of directions. I decided to better wait for some riders and not to take the risk to get lost.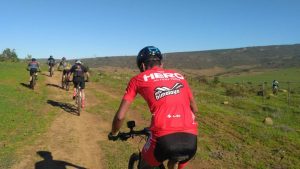 Why my performance in uphill was really strong and I could overtake many riders, I was comparable slow in flat and downhill. Especially the last 20 km or so were almost only flat, but bumpy. All the time I had to get of the saddle and the riders with their Full Suspension Bikes just overtook me easily. Flat is really something I have to work on- but it is hard to find any flat in the Himalayas J.
Suddenly two very fast riders overtook me from behind. Once they passed I suddenly heard a nasty sound. When I looked up again, there was only one rider left. The other one indeed managed to ride straight into the only well far and wide. I stopped and had a look down. This guy didn't look good, lying flat on the ground, his breathing shallow. I tried to stop a couple of riders and finally two others stopped and we managed to get him out of this well.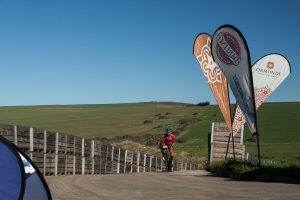 Surely these 5 minutes of rescue, but also my slightly weaker performance on the last 20 km (it was all flat and I was quite tired now), throw me back on 42nd position out of above 800 overall. I was happy with my position, since I gave my best, but also know that I could do better. The twenty riders ahead of me reached all within five minutes- manageable I would say.
It took me a total of 3 hours 59 min, my estimated time beforehand- 45 min behind the leader H. B. Kruger. Still these 72 km felt extremely long, which is not surprising, since it was all off- road.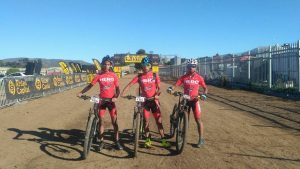 I really enjoyed racing against so many good riders and as in every race I learned a lot. Can`t wait to go back to this mountain bike paradise for some training and stage racing.
The day before our flight back home we spend with some sightseeing in Cape Town, a really beautiful city.
Bye bye South Africa and see you soon!