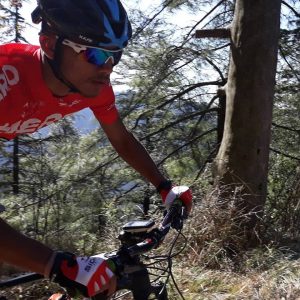 Welcome David to Mumbai MTB Off-roaders, MMO. Thank You for accepting our request to answer few Qs. It's our quest to learn from you which made us reach out to you.
Please tell us how do you prep for a 2 day race like Shimla, & a 7 day race such a MTB Himalaya? Do you prep for 2-3 months for a race or more & how?
See guys it doesn't matter whether it's 2 days race or 8 days, both are marathon races. Because when you are at your peak, it does not matter whether it's 2 or 8 days. So you have to reach your peak before both races. Training is almost same. The only difference is that in Shimla you ride 40-50 km in a day. But in MTB Himalaya you have to ride 75-80 average. So for MTB Himalaya I train for longer distances than MTB Shimla. But the training is similar.
You are from Shimla, & mountains are in your blood. I see that you do DH also amazingly well also. How do you prep for Non marathon races such as XCO? Do you think in XCO races (lap based) you can get same success as you got in Mountain marathons?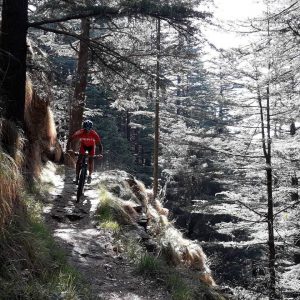 Guys first of all, I am not really good in downhill. I have started riding in 2016. In order to become really good technically, you need to train a lot. It comes with the experience. I am mostly busy and don't get enough time to practice too much technical stuff. But still I am trying my best. XCO training is totally different, in XCO you have to ride only 1:30 hours. But it's really intense, full gas from the very beginning. So I do interval training for XCO, which is really helpful.
Right now I am focusing on marathon races more. But I will do XCO as well. It will take some time but yes, I can win XCO also.
You are part of Hero Action Team. How does India elite stack up against foreigners? Can we win international MTB marathon, XCO contests?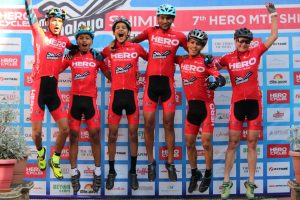 India has a huge potential in the sport. All we need is proper guidance, coaching, and financial support. If we get all these things in a good age, we definitely can win international races.
Generally I ride 6 days a week. 2 days 30-40 km high intensity ride. 2 days some interval training and 2 days long rides like 60-100 km good high intensity ride. And your nutrition plays the most important role in the sport.
I know you ride UT EXT carbon hardtail. Are you planning to move to a double suspension bike?
Since mountain biking is getting more technical day by day, everyone needs a Full suspension Bike. It makes a huge difference in technical downhill and you can save lot of time and energy through full suspension.
What is the future for David Kumar? As in which is your dream race to win?
My dream races are ABSA Cape Epic, Yak Attack, MTB Himalaya and the Transalp Race. So I want to participate in all these races and finish on the podiums.
Are you competing in MTB Meghalaya?
Most probably I will come. Actually our team manager decides the races. So if he allows me, definitely yes.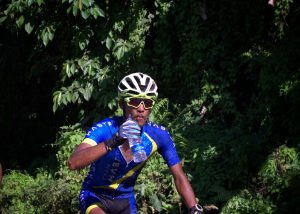 During races do you take energy gels? Or do you just stick to water throughout?
Yes I do have gels, but only during races. Not while training. During training I take only water with electrolytes and bananas.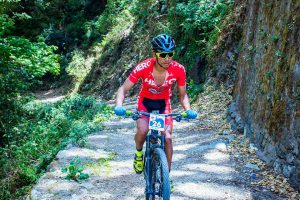 How different is MTB Nainital from MTB Shimla & what could be the factors that made you finish at the 3rd position?
Both races are really good and competitive. But I think MTB Shimla is bit more challenging than MTB Nainital, especially very long and steep climbs and rough downhill.
Actually suddenly I got a severe pain in my stomach during the first day of the MTB Nainital. I struggled a lot, and finished 4th. Next day everything was going well from the very beginning I was leading the race till 60-70% of the race. But then I got a huge cut on my front tire. I put a tube and waited for the pump. Because I didn't have any pump. Then I finished 3rd on the day and overall.
Who do you think is your biggest competitor in India? Is it Rakesh Rana? Isaac Rai? Devender Thakur?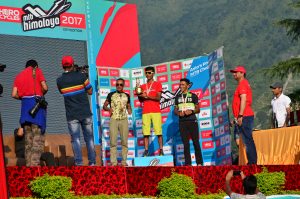 I think all three of them are really amazing riders. So I consider all of them as very tough competitors, because all of them can surprise you anytime.
What is your typical week like? How many hours you cycle? Do you run? Or just cycle full week?
I ride generally 6 days a week. I ride somewhere around 12 hours a week. I don't run, because I have a time problem. Sometimes, if I have time, I do strength training in the gym.
How was South Africa? How did our boys fare vis-a-vis others?
South Africa was really good. Competition was really tough. But still all of us did pretty well. There were more than 2000 riders.
What is your next goal? Are you planning to compete professionally on full time basis, doing all major world races?
I do not plan so much. I just want to dedicate my next 5-7 years to Cycling. Yes off course I want to become a professional mountain biker.
We have a lot of young talent in the group, could you give them some advice.
Since you are quite young, you have lot to do, take your age as an advantage and keep working really hard. Cycling is an emerging sport in India, so yes you can make a good career in it. But first you need to prove yourself in front of everyone. Obviously it's really hard but possible. Wish you all the best for your bride cycling career.
You live life your way. Managing home, having a full time work at Hero Cycles Hastpa store in Shimla, managing family & then training. How do you manage so much and then emerge as a winner same time?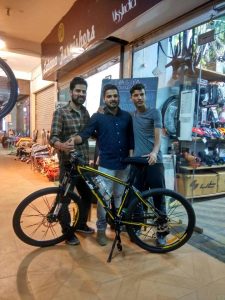 Actually I am working in the Hero store just because of the love for the cycling. I learned a lot from there. Yes you have to manage with family, work and training at the same time. But you have to sacrifice lot of things to achieve your goal. You can't be a winner without sacrifice and hard work.
Do you use sensor like HRM, Cadence or Power meter for trainings What do you do for Strength training specially for building your Heart Rate?
What is your gear ratio, I mean 2×10 or 1x… And yes when do we expect you to ride along with Nino Schurter.
Thank you sir!
I use only HRM for training, which is quite important. For strength training whenever I have time I do some gym workouts. High altitude training helps you the most in building heart rate. But we are already in high altitude. I ride 2×11 gear ratio. Since I am quite a late starter, I can't say anything. Nino is already a world champion. But yes, I am trying my best to reach there.
Any tip while shifting gears on Climb?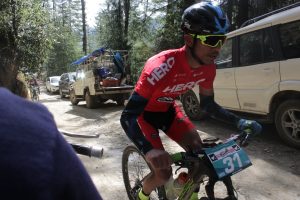 There are combinations for climbs. Every cyclist should know that. You have to shift smoothly, with good pedalling. And chain drops just because of R.D adjustment. If it's still drops please visit a good mechanic.
Why aren`t there enough cycling teams in India just like we have in European countries?
People are still not aware of the cycling sport. They think cycles are just a toy for children. They don't even know that it is an Olympic sport. And government is also not doing much.
And thanks a lot everybody, especially to Manish Bhaiya for inviting me in this group. I hope this small experience will help you somewhere in future.