Every race is important to me and I go to the start line with the aim to finish every race first.
Doesn't matter whether it is a local organised race in Shimla, the big and long stage race Hero MTB Himalaya, a cross country race or a one day race such as MTB Daramshala: I want to win them all. That is why I practice, that is why I race.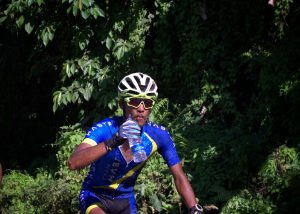 But one annual race is slightly more important than all the others. There is one race in the year to which I have more emotional connection. One race a year I never want to miss. The 2 days race MTB Shimla.
MTB Shimla was my first race I ever participated in. That was in 2016 and with an eleventh position overall I did not even too bad.
I noticed there is much more potential. And others noticed too.
I got hooked. What were before spontaneous rides on my bike, became a serious and disciplined training routine.
2017 came and with it the next MTB Shimla edition. For 4 month continuous I was training even harder, all aiming for a top position in this most popular Mountain Bike race in India.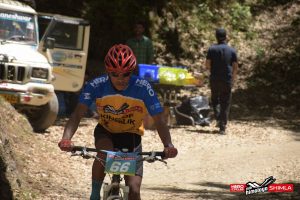 Despite two tire punctures and hard competition of fellow riders, I could surprisingly win the race. Suddenly I was not just participating in mountain bike races. I could actually dominate them.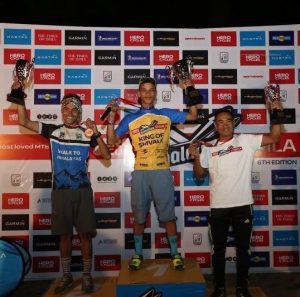 If you have been the champion of a race once. You can't just return to the same race with some kind of pressure. There are expectations now. Expectations from others. But also from myself.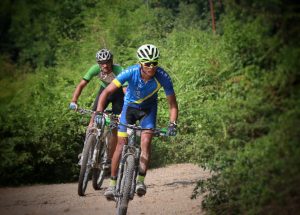 After a successful racing season for me in 2017 and some good races in early 2018. It was time for my 3rd participation in MTB Shimla.
I was training harder than ever and with the dates of the races coming closer I got even nervous.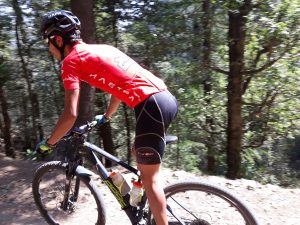 Some of the best mountain bikers of India, such as Rakesh Rana, Issac Rai and Rohit Thakur would come and there were rumors about an foreign National Champion from the USA who was going to participate.
I got even more nervous.
But I new my potential. I was fit. I was well prepared. Let the show begin.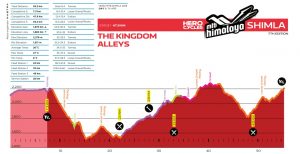 And it begun.
The first day startet with a long and rough downhill, first on a jeep track and later it continued on a couple of technical single trails.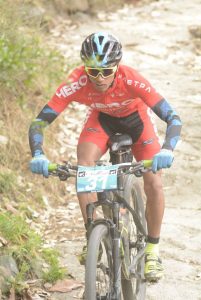 Despite my little weaknesses on downhills I felt very confident and managed to stay with the leading group of 4 riders.
Once the long and partly steep climb started i put all my effort and was able to slowly overtake one by one till only Issac Rai was with me. After few more kilometers on the uphill I finally manged to create a gap between the two of us and from that onward I was leading the entire first stage till the end, despite cramps coming and going.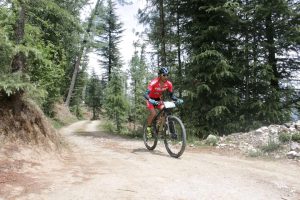 After the first stage I had a 10 min gap to the 2nd Ashish Sherpa and even more than 20 min to Rakesh Rana, who had a flat, and Isaac Rai.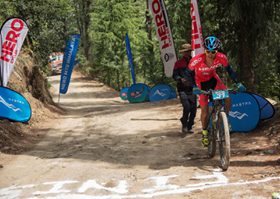 I was a little bit relieved. 10 min were a good head start for tomorrow. My bike seemed to be good and so was my body. Only my left calve muscle was a bit in pain. I tried to soften it by massaging it and was hoping the pain would go by tomorrow.
Now it was time to enjoy the time at the camp: amazing weather, beautiful campsite, plenty of food and good people. MTB Shimla has always more to offer than just racing.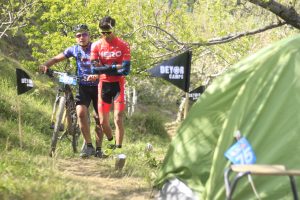 The next morning startet with an early breakfast, with which I have always my problems. I am just not a morning eater and tried to force some porridge and eggs inside.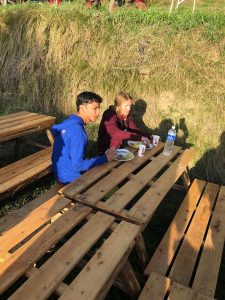 Warm up, refill of my water bottles, bike check. The normal Routine. But huuuh… what was this? When I had a closer look on my tire I noticed a strange bulge, which was about to get punctured anytime! Only 10 minutes to the start.
Now I had to react quickly.
8 minutes to go. With helping hands of Happy, the mechanic and my team member Gurman, we tried to fix the old puncture, which apparently about to open. But the try was not successful.
5 minutes to go. With an old piece rubber we professionally protected the tire from inside and put my spare tube inside.
2 minutes to go.  Now I didn't have a spare tube anymore. With a tubeless tire a big risk. Quickly I grabbed for the only available spare tube: a 27,5 had to do and a puncture kit. I run to the starting line.
30 seconds to go.  I reached the starting line and looked down on me: I was wearing only one glove! How could that happen!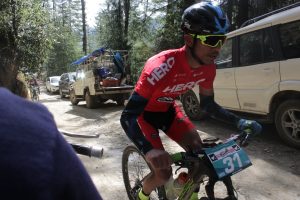 10 seconds to go. One big breath. Concentration.
3-2-1- go. The second race day had begun.
Despite my worries for my tire and my single glove outfit I tried to stay focused. Now was race time.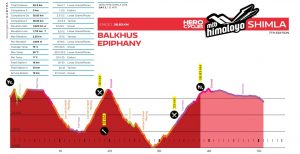 The race started with a loop of a technical single trail. I stayed close behind the first leading group of 5 riders. During the following uphill and flat stretch I managed to catch up with Rakesh Rana who was leading at that time.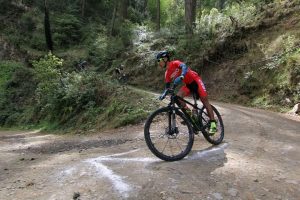 During the next technical downhill, all 5 of us stayed close together, it was followed by a steep climb through the forest. During that 6 km stretch Rakesh and me managed to create a gap from the other riders. A flattish section on which I finally managed to get my second glove on, which someone has passed me on the way. Then the next downhill. Again me and Rakesh stayed together, still leading the race. On this never ending downhill Rakesh even had a small crash with a motor cyclist, but luckily nothing happend to him and his bike.
The downhill came to an end and finally the last uphill started. Time for the last final push.
Rakesh seemed tired now and so I managed a 7 minutes gap on the last 7 km climb and reached the finish line first.
Relieve was flooding my body.  I did it. I defended my title and will remain The "King of the Shivaliks".