My first ever self supported ultra distance race
La La Land Ultra: A self supported endurance race in Himalayas which started in Manali and went all the way till Turtuk covering 700 km with the average altitude of 3900 meters and 10280 meters of elevation gain.
In june 2019 me and one of my best friend did a bike packing tour from Shimla to Manali, Lahaul-Spiti, Kinnaur and back to Shimla. when we were in Manali we got to know about a self supported ultra distance race in July called La La Land Ultra. which was going to start in Manali and end in Turtuk. this race really got my attention. Because before starting cycling i always wanted to do the Manali-Leh route on a bicycle. Later i never did because it became really common. Every cyclist was doing that. But this time i really wanted to do because first i never did such a race before (which i always wanted) . Second it was one of my dream route.
Since i had never been on that route before, i consulted with some friends. Most of them suggested me not to do the race. Because the route was really challenging and treacherous. And i did not have any idea about the route. I always liked challenges which got me into the racing. So i talked to my sponsors and decided to give it a go.
After completing my bike packing trip i started studying about ultra endurance races. And started looking for all the important things i would need during the race.
On 8th July we all gathered in Manali for the race briefing and jersey distribution ceremony. Since the race was first of its kind in Himalayas only six brave riders showed up at the start line including 2 girls, which was so impressive. The race had two categories Maverick and Chinthes. There were three participants in Maverick who had to complete the race within 160 hours. Rest of the three were participating in Chinthes including me, who were allotted 100 hours for the course. And i was the only one on a mountain bike.
Ready steady go
Next day at 7 am we all lined up at the start line and the organisers flagged off the race. since i was new for such a discipline, the race was really slow for me. Then i decided to ride with the leader of the race Sumit Patil who had a very good knowledge of the ultra endurance races and he is the current record holder for the Manali -Leh route. After riding for 2 hours with him i decided to go my own pace. soon i noticed there was quite a big gap formed between us. But i kept on riding my pace expecting him to close the gap later in the race.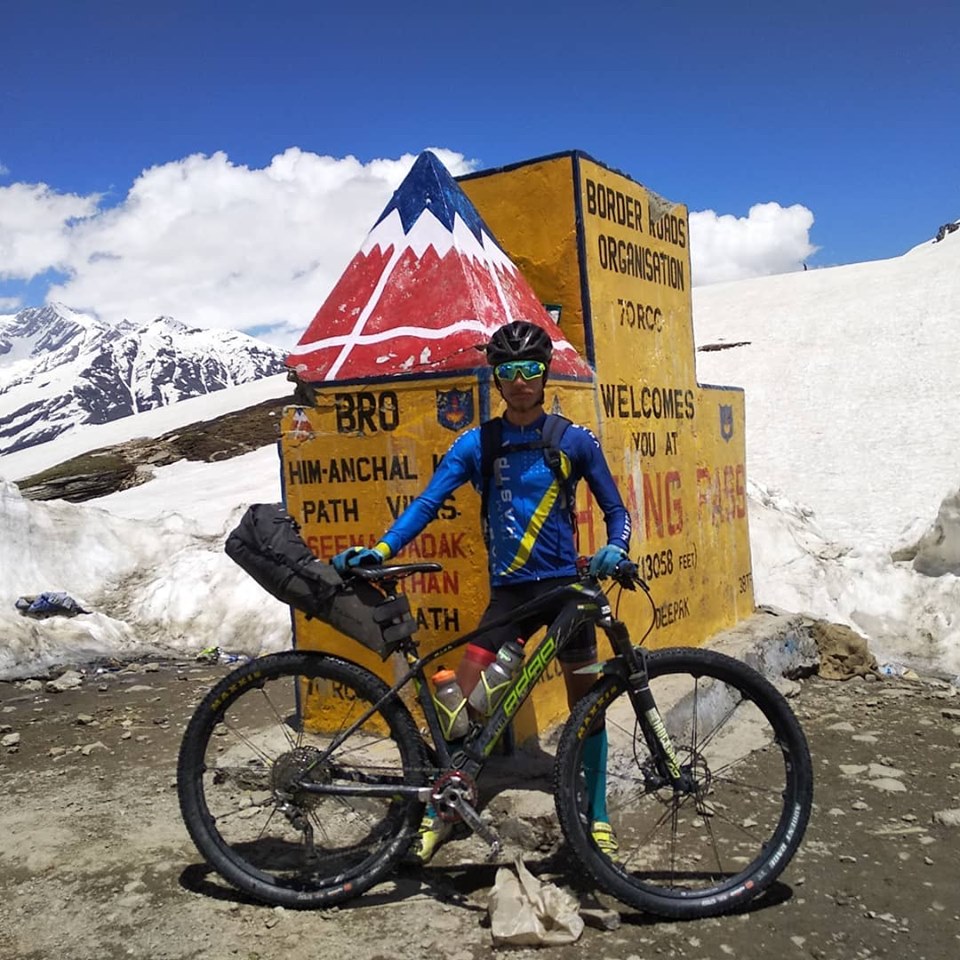 I stopped at Koksar for breakfast and continued slowly. But meanwhile rain caught up which made the race even more challenging. I crossed our first checkpoint Keylong at 2 pm. and stopped for lunch at Darcha at 3:30 pm. Afterwards i continued towards Zingzingbar and stopped there for water filling. I was still feeling really good and fresh and managed to reach Baralacha La by 7:30. Once i reached the top it started getting dark and really cold that even putting on warm clothes was a big challenge itself. After a long and hard effort i finally managed to wear something warm and started rolling down to Bharatpur.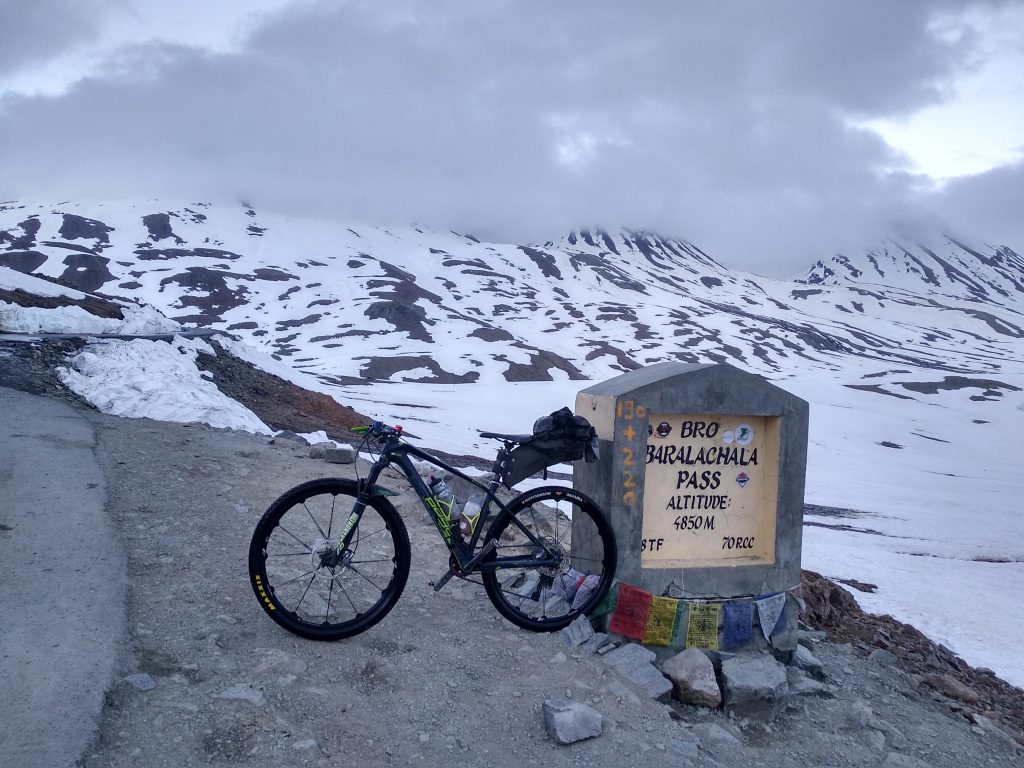 The road towards Bharatpur was a nightmare in the dark, because of the freezing water and almost unrideable potholes. I stopped at Bharatpur for a while and ate something. All the trucks and bikes were parked there being not able to cross the rode due to the flooding mountain stream. But i still decided to at least give it a try. when i reached the point the view was really scary in the dark. It was 9 p.m and i did not want to stop yet since we were allowed to ride till 12 a.m. I walked up next to the stream for awhile,once the water got bit shallower i managed to cross the stream. I reached Sarchu by 11 p.m and decided to stay there overnight. I found a dhaba nearby, had dinner, prepared the bike for the morning and went to bed. The night was one of my worst night ever. The whole night i kept vomiting and running due to the food poisoning.
Next morning i had a severe headache and was feeling really weak. I started my ride 5:30 in the morning instead of 4 a.m. After almost one hour of riding i started feeling some pain in my knees. At first i thought it will vanish after some time. but it kept increasing throughout the day. And the whole day i was riding through almost 5000 m. mountain passes one after another. Because of the knee pain my speed decreased dramatically and i was hardly able to move even on flat roads. Even after struggling the whole day i wanted to reach as close to Leh as possible by the evening. At 6:30 p.m i was passing through a small village called Rumtse and suddenly i heard a voice from behind shouting my name. I stopped amazed and realized it was one of my friend Raj from Manali with his cycling group. I stopped there and had some chat with him over a tea. Later i decided to stay there overnight with him(though i could ride 3-4 more hours) with the hope of getting better for the next day.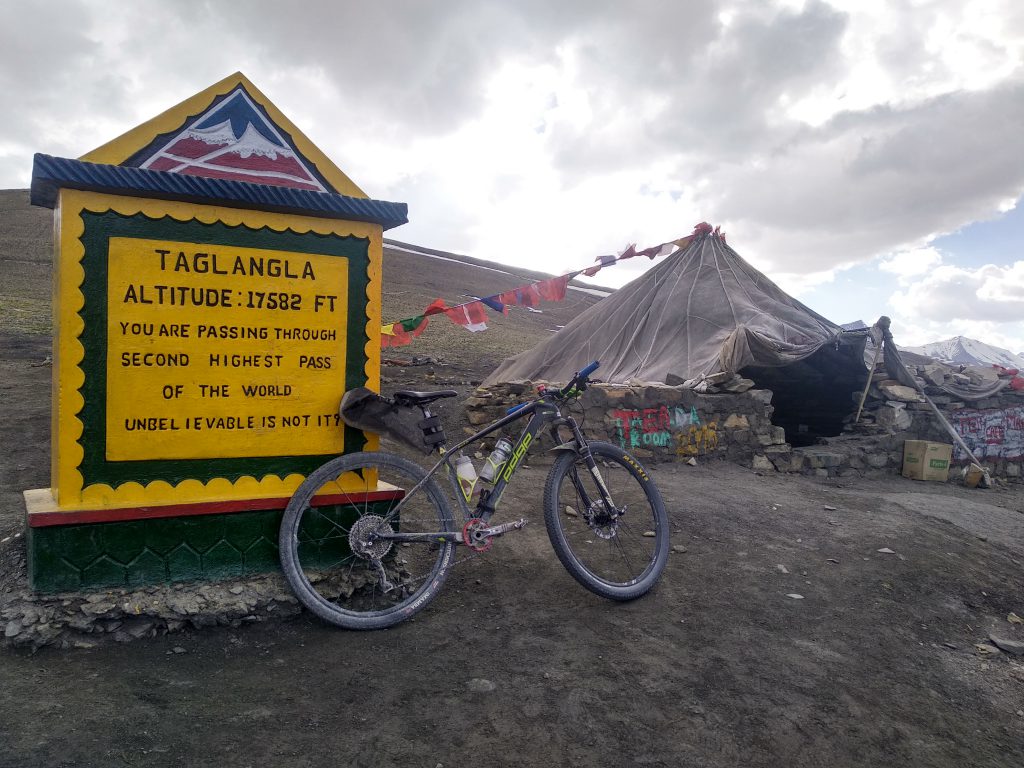 I woke up by 5 in the morning and headed to Leh. But the knee pain was still there. I kept riding slowly and managed to reach Leh by 9 a.m. By the time i reached my knees were swollen. Then i realized that i had injured my knees. Since i was there to win the race not just to complete i decided to quit the race and come back stronger next time.
Though i could not complete the race but i still enjoyed it thoroughly. It was a big learning for me for my future adventures. A big thanks to my sponsors Hero cycles and Hastpa for enabling me to be a part of the race. And a big shout out for the organizers for such an unique race. Looking forward to the next time.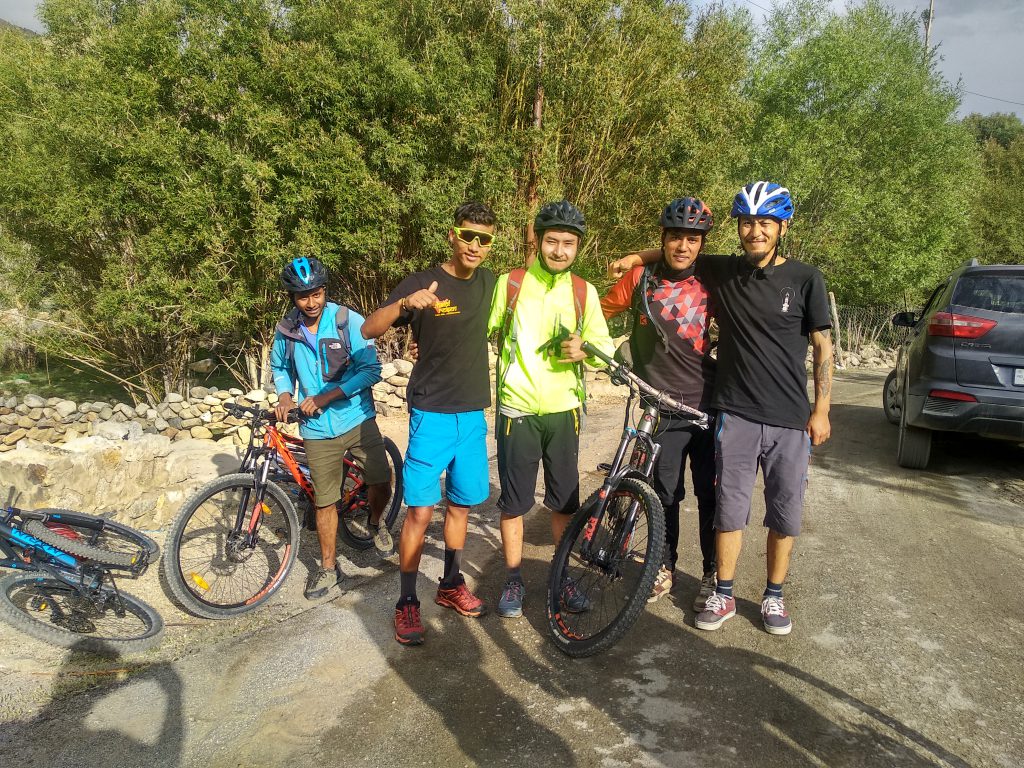 Next few days i spent exploring Leh with my friend Raj. And came to know about a small group of mountain bikers there, who have been promoting the sport for quite few years now. It was really nice meeting them. And hope to see them next time.